Profitable Thinking: Develop Your
Marketer's Mindset and Help
Your Customers Buy!
by Bill Thomas Jr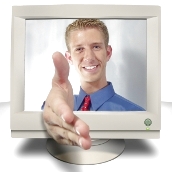 To create a successful business, you must be able to get as many customers as possible to purchase your product or service at a profit. So you develop a great idea and then all you have to do is go out and sell it. Right? Sounds so simple, but it's not quite correct.

Actually, people Hate to be Sold, and they don't often like salesmen. But they Love to Buy!

So all you have to do is "make a better mousetrap and people will beat a path to your door." Right? Well, that's not exactly correct either . . .

Marketing vs. Selling

Let's look at the definition of "Marketing". Marketing is not selling. Selling is a component of marketing, though, and getting sales is the most important part of any business. Without sales, there are no profits, and there are no paychecks.

So where do the paychecks come from?

Paychecks come from one and only one source -- the Customer. Everyone in your business should understand that their paychecks come from the customer, and everyone in your business should first be a marketer. Instead of thinking, "How can I make my life easier?" a marketer will ask "How can I make it easier for for my customer to buy?"

Your phone greeter is a marketer. Your service person is a marketer. Your "help desk" person is a marketer, helping people become satisfied customers and wanting to do business with your company.

The Marketer's Mindset

This is the Marketer's Mindset. Make it easier for the customer to BUY. Satisfy the customer's wants, needs, and desires - especially their "wants". Develop a mindset that "puts yourself in the customer's shoes" and a whole new world of opportunity and abundance will open up right in front of you. Ask yourself questions from the customers standpoint, and then answer them by providing simple, effective solutions for her to buy.

Remember, customers hate to be sold but they "love to buy", so firmly establish in your business the mindset of "helping the customer to buy".

Evaluate every step of your business process and refine it. Make each step easier for your customer to BUY, and be sure you overdeliver. Include additional valuable benefits. Make certain the customer is happy she bought!



Refine, Test, and Grow Your Business

Now, monitor your marketing efforts and use software to track your new results. Then, make sure there is an easy and automatic way to include a marketing component in every step.

Did I say Automatic? Yep. When a customer has just bought and you have just overdelivered, she will be eager to tell her friends. Develop an automatic system to cultivate these leads. Put a system together that gathers testimonials on "autopilot". Build huge customer lists and then turn them into repeat buyers, at no additional advertising cost. This is the Marketer's Mindset.

How would you like to never make another sales call and put your entire sales system on autopilot? Today, it can be done. Learn to work toward this goal and become a marketer, not a salesman. Good marketers become rich -- many salesman constantly struggle.

Now go learn, develop, implement, track, test, refine, profit; be a marketer and help your customer BUY. Think profitably and build your new business success around a Marketer's Mindset. [. . . here's a quick marketing case study]

You may reprint this article but please comply with our Article Reprint Policy.